10 Ideas for the Perfect Destination Elopement
Elopements are a big deal for the last few years, especially since corona hit us! With a small guest list, more flexible options for location and budget, and an opportunity to hire the dream photographer at the dream destination, elopement has perks of its own. So, if you are considering an elopement wedding, here are ten ideas for the perfect elopement.
Showcase Your Surroundings And Work With Them
Elopement means more backgrounds and more choices for your wedding ceremony settings! Among several elopement destinations, choose the one that resonates the best with you and tries to work it out as your background for your ceremony. The abundant amount of backdrop options can be overwhelming but there are many that you can choose from. Do want a fire outlook, canyon floor, deep forest, waterfall, rugged coastline, or a cabin as your backdrop? Imagine a mountain overlook where the sky has become cotton candy pink with glittering golden rays of sunlight as your backdrop. Just add a simple alter and a dress that compliments the backdrop and takes some memorable pictures. If you are having your wedding in some chateau, use gardens as your backdrop. This will also reduce your budget. Nature can become your beautiful and natural backdrop.
Rent An Accommodation And Have A Cookout
Destination elopement means doing something unusual! Why not rent out for a weekend and lookup for places like mini castles, glamping tents, A-frames, etc. You can take your closest family and friends and have one of the most unreal weekends of your life by cooking out and eating marshmallows underneath the stars. You can even go on a picnic with your loved ones and do a wedding ceremony set up there. The choices are endless.
Planning A First Look Is A Must
An elopement wedding is about impressing yourself and your other half and keeping yourselves first. It is not about trying to impress your friends and family. So make these moments worth every while. Plan the first look as this is a great opportunity to not only capture some emotional shots but this moment will be instilled in your mind forever.  Make sure to plan this intimate moment in front of a lovely backdrop.
Do Something Unique
Make your elopement day special by brainstorming about something unique! Think outside the box. You could do scuba diving, plan a wildlife safari or do something simple like writing a song and singing it or surprise your significant other with adventure gear and then go on hiking with them. You can even plan something out on the beach.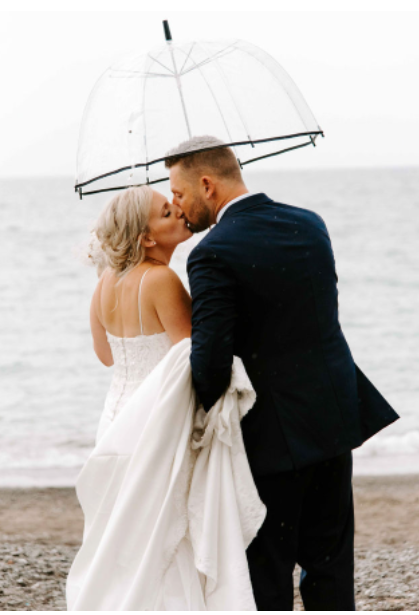 Surround Yourself With What You Love
Whenever you plan for your destination elopement, it is important to choose a location that is important to you and means something to you. Whether it is your favorite site, somewhere that you always wish to visit as a child, or a place close to home. Elopement destinations do not need to be specifically resorts, hilltops, or other cliché destinations but it is all about surrounding yourself with somewhere that you love. It can be the countryside, lush vegetation, or even a beach near your home.
Plan For Your Honeymoon
Destination elopement means leading right into your honeymoon after your wedding! Amongst all the elopement destinations, why not pick a destination where you always dreamt about your honeymoon or planned for your honeymoon?  This will also save your money as you will be experiencing two things in a single trip instead of spending separately. With this experience, you can kick back and relax just after your wedding and make precious memories.
Wear A Colored Dress Of A Dress Inspired By The Destination
Elopement destinations mean more choices of wearing outside-of-the-box wedding attire. Having a traditional white dress can simply be replaced by a black dress or a colorful wedding dress. You can go with the theme, if you are marrying near the jungle then go for a Bohemian-inspired wedding dress. A cape can also be a nice addition, or you can wear a colorful veil and sneakers instead of heels. It's your wedding after all!
Choose A Unique Scent And Incorporate Your Favorite Music
Did you know that scents play a huge role in bringing back the memories? You and your other half can wear a unique scent that you wear on your destination elopement wedding day and special occasions later on, such as an anniversary. Do not forget to make a playlist of your favorite songs to play and download that one special song that you can dance on. If you can play an instrument or hire someone to play, that can add a lot to your wedding experience. This little detailing will make your elopement day special forever.
Don't Miss Out On Wedding Ceremony Essentials
Elopement destination does not mean that you miss out on the wedding essentials such as decorations and a wedding cake! While you have the option to do less décor than usual but still put some work into it. String up some lights and do not forget your wedding cake. It can be a little wedding cake with your private chef for an amazing dinner afterward. Also, celebrate your wedding by dancing away and enjoy the night!
Get Ready For Your Elopement Together
If you want your first look then chances are that you will be getting ready in separate areas. But it's a destination elopement wedding and you can skip this rule if you are not going for the first look. Style the hair of your other half and help each other out. If you do not have anyone else with you and it's just the two of you at your destination wedding then getting ready together will become very helpful.
Elopement weddings deserve to be made equally special as traditional weddings! These tips will help you to make your day extra special and make you cherish each moment that you will spend.