Minimal Wedding Dresses – Wedding Dress Inspirations
A lot of wedding dresses can be a bit extravagant. While some brides may want an over-the-top wedding dress, others may want something minimalistic and timeless. As a bride, you should choose something that speaks to you and is a representation of your personal style. If a minimal wedding dresses is your vibe, don't let anyone tell you otherwise. If your dream wedding dress is clean, has zero fuss and focuses more on the architectural lines; then you are a minimal bride. And that means you need to find a minimal wedding dress that makes a very big statement. With that being said, here are a few wedding dress inspirations. 
Elegance Allure

Source
We absolutely adore this elegant, sophisticated and magical dress! It covers the body from top to bottom yet still ensures that the attention stays on you during the wedding. The cut and craftsmanship are so beautiful that every minimal bride will fall in love. 
One Shoulder Impact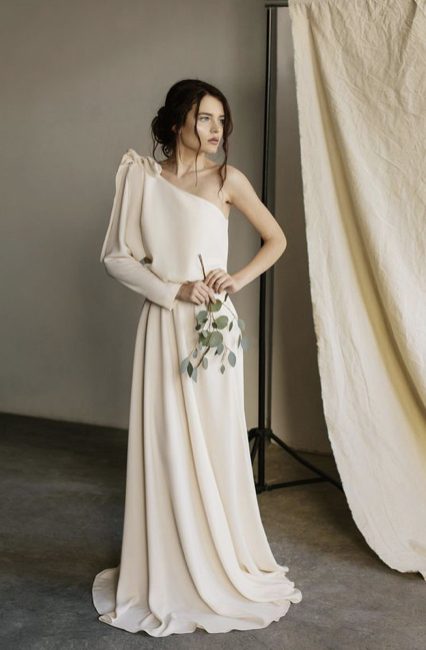 Source
One-shoulder dresses are all the rage night now, and this trend fits in perfectly with the ongoing minimal wedding dress trend. This cut allows you to still show off your collarbone and arm while keeping things a bit interesting with the poofy sleeve. This breathtaking number is actually a two-piece set with a long, flowy skirt. 
Plunging Necklines
Since minimal wedding dresses are all about the little cuts and detailing, plunging necklines are a popular pick among such brides. However, make sure not to go too overboard with the neckline as it would take away from what you are trying to achieve. 
Figure Hugging Number
For brides who want to highlight their curves, a body-hugging wedding dress is what they should go for. Make the look more timeless by wearing a long-sleeved number with a square neckline.
Well Structured
This wedding dress is the perfect example of how simple is not boring. Any bride who walks down the aisle wearing a dress as beautiful as this one would take everyone's breath away. 
As a minimalistic, you want things to be simple. However, don't think you would look boring just because you opted for the simple route. A simple wedding dress can have the same impact as an extravagant ball gown with layers of fabric would have. How? Well, minimal wedding dresses highlight the amazing craftsmanship of the designer and also looks like it's made just for your body. Don't think you are restricted to body-hugging wedding dresses to achieve a minimal look. Many designers create minimal dresses that also offer voluminous shapes while still keeping things elegant and impactful. If you're shopping for a dress we recommend checking out https://www.bestforbride.com/ for amazing wedding and brides made dresses.
Make sure to check out our wedding blogs page to find more useful blogs to help you prepare for your big day!