Wedding Planning Tips For The Perfect Farm Wedding
A charming way to have your dream rustic wedding is hosting your wedding on an enchanting farm. Planning a wedding at the barn does not mean that you have to sacrifice the glamour but it means playing up the refined aesthetics so that everything goes in balance and doesn't go over the top crafty in your farm wedding. To keep sophistication a priority while adding to the rural décor we are here with some wedding planning tips for that perfect barn wedding.
An Area to Get Ready
You and your girls deserve an area in the barn that is perfect to get ready, as well as one area for the gents. Get a spot that is not only secluded but also has a photographically aesthetic background so that you can have those perfectly romantic getting-ready pictures and videos of yours and your loved ones.
Source
Set the Scene with an Illustrated Invite
Your farm wedding will not be complete without illustrated invites that beautifully depict your wedding venue so that your family and friends can have a sneak peek. An illustrative invite can be such an amazing keepsake for years to come and you can always flaunt yours. Plus, it will set the whole mood for the festivities yet to come.
Source
Think About Overall Layout
Most barns are completely open or seem huge at first but once you add in a bunch of tables, chairs, and a dance floor to it suddenly the space looks smaller. While your wedding planning thinks about how your wedding will flow including the bridal party entrances, dancing, dinner lines, etc. Your wedding planners can figure out how many people can fit in comfortably.
Opt for the Benches
You can take your wedding planning to another level by opting for benches instead of classic chairs! Rustic can be elevated with just this single touch. Just some simple greenery and the benches with blankets or linen on top of them for a lush look.
Source
Add a Pop of Color Here and There
Red barns are a classic and that too for a reason! Adding a pop of color that is according to the season will add beauty to the aesthetics. Tailor up your wedding planning to your season and make sure to include the colors for an unforgettable wedding.
Add Draping Here and There
Your wedding planning should incorporate draping here and there to create a cozy impression, especially at the entrance. leather tufted couches, wine-colored linen, and wooden detailing, you can paint the rest of the picture yourself.
Source
Be Smitten Not Bitten
It's a barn wedding and a few of your guests might come uninvited including mosquitoes and bugs. While fireflies and chirping crickets may add to the romantic look but other bugs might become problematic to everyone in your farm wedding. Sock up on Citronella candles and set them up around perimeters of the barn wedding venue for a romantic aesthetic but as a blessing in disguise – to save you and your guests from the bugs. Do not forget to put bug spray in a basket near the entrances and the washroom. Get your wedding site sprayed a day before your main wedding occasion.
Incorporate Wooden Elements
Your barn wedding won't be complete without incorporating wooden elements! Consider mixing neutral and Earthy tones and elevate the look with wooden accents for a look that is cohesive and equally romantic no matter what wedding style you opt for.
Source
It's Time to Ditch the Stilettos
You have that perfect opportunity to skip those stilettos and flaunt your favorite kicks! A farm wedding means that the floors are going to be rustic. Some barns even have wood, pebbles, and dirt. You need to add the note in your invite to save your guests from ruining their heels.
A Late-Night Barn Transformation is A Must
Wait for the sun to go down and let your barn transform into a brightly-lit indoor ambiance with lanterns, candles, overheard bulbs, and plenty of drinks and snacks. Get ready to dance the night away with your spouse and your guests.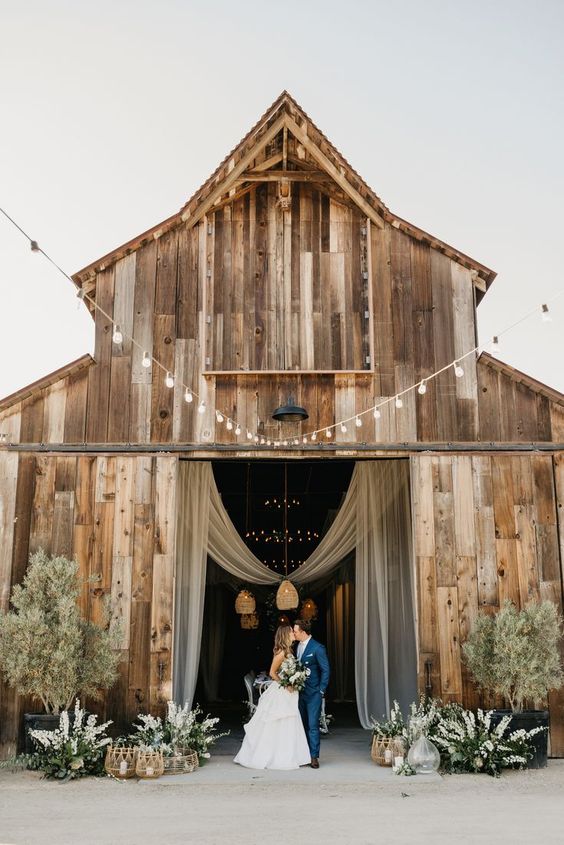 Source
Say "I DO" Outside
A farm wedding is not to stay inside but to explore the outsides! But before you plan to go indoors for the reception, set up your ceremony in the front of the barn and say "I do" there. Arrange the seating that dace to a breathtaking backdrop.
Add Romantic Lightening and Lanterns
Add romantic fairy lights to cozy up the whole area or lanterns to bring out that romantic vibe at your farm wedding. Whether you are marking an aisle or you are planning to decorate your reception space lanterns and lighting are the perfect pick. They are also cost-effective and easy to set up.
Source
Consider the Weather and Weather Proof it
A farm wedding can get hot if done in the summer season! Your wedding planning must include parasols and paper fans that not only add a pretty touch to your barn wedding but are a total necessity during the hot months. Barns tend to hold heat as they are not designed for cross ventilation. Having plenty of big fans will help out to control the temperature. If it's winter season, get heaters as they lack proper insulation.
Make the Barn Area Allergy Proof
Your wedding planning must include this one! An Instagram-worthy wedding is perfect with a few animals and hay bales but that can be a full-blown allergy attack if the guests are present. Also for the bride and groom, allergies are not the best thing to happen on the big day.
When going for a barn wedding it's all about thinking outside the barn with these charming tips. Your farm wedding will be as per your dreams and your photographs will also turn out perfectly. Since we are already on the topic of wedding photographers, make sure to check us out at https://originweddings.ca/, we would be honored to capture your big day so the memories can last forever.'