Summer Wedding Trends To Look Forward To In 2022
Doing your research on the latest summer wedding trends can be pretty draining. That's why we took the time to create some of the top summer 2022 wedding trends for you to incorporate into your big day.
Netflix Hit Bridgerton-Inspired Theme
It's no surprise that pop culture never fails to inspire wedding trends! The hit British drama on Netflix Bridgeton features Regency era that included blue tones, puffed sleeves, and plenty of statement bows. For summer wedding trends a larger-than-life ballroom with a Duchess Table style reception and gowns with ruffles and square necklines will be much preferred.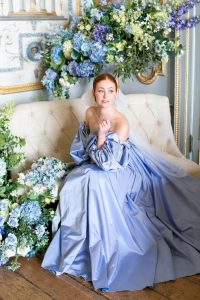 Source
Vegan Wedding Food
With a rise in the vegan trend, dietary lifestyles have also changed in wedding food. Look out for some vegan menus near you as it will be more common this summer wedding season.
Source
Garden Weddings But Inside Out
Ever since the pandemic ended, many couples are preferring weddings that are outdoors! Staying inside is not an option anymore and the same goes with weddings. Also with the summer season coming up, nothing can beat the beauty of the backyards, patio, and lavish gardens. Summer 2022 wedding is all about secret-garden-style atmospheres with estate venues but not the rustic style as we have been seeing in the past. This time it's sophisticated with whimsical décor and vibe to the location.
Source
Wedding Cakes Are Going Smaller And Separate
Multiple tiered cakes have always been a trend but smaller and separate wedding cakes are getting into a trend as well. Many couples are having smaller and more detailed separate cakes for every guest as it saves them the hassle of cake cutting and its distribution. It also adds to the aesthetic and a hygienic way to consume cake. Rising from the bento cake trend such cakes are making their way to weddings and are here to stay in summer wedding trends.
Source
Open-Air Tents Are Perfect For Summers
Summer 2022 wedding calls for an outdoor wedding that is not complete without a tent! Whether white, colourful, or clear a tent is perfect for summer and stylish addition to any wedding. You can craft the tent with creative lighting, draping on the ceiling, whimsical décor, and custom flooring.
Source
Themed Party Celebrations
Now that summers are around the corner it's all about partying and weddings are no exception! Rehearsal dinners and welcome parties are fun but it's time to double up the fun with some theme-based parties, the circus, outdoor bonfire in the woods, BBQ, or masquerades with a point of view. It's fun and a humorous way of celebrating a summer wedding day.
Source
Rust Palette Wedding
Rust palette is not only exclusively for winters but also fit for the summer season! This color palette can become a perfect theme for a bohemian-style wedding or a retro-style wedding. A monochromatic color scheme such as blush, rust, and orange is perfect and you can also add neutrals such as white and black for some contrasts. Incorporate some flowy and floral elements for a hip aesthetic.
Not Your Usual Wedding Attire
This summer's about showcasing your individuality to the world, after all your wedding wear should consist of what you feel the best In. One of the summer 2022 wedding trends is living and celebrating your individuality and many brides and grooms have been ignoring traditions and making their own rules. Think vivid gowns, bold texture, feathers, leathers, extravagant ruffles, or perhaps, no gown at all.  It's time to bid goodbye to traditional attires and get on with modern cutting-edge attires.
Source
Metallics And Vintage Are The Perfect Combos
Vintage furniture along with antique décor enhanced with metallic will take over the floor in the summer 2022 wedding!  Other than pastel hues, blush tones, and baby blues, we have been seeing Smokey greys, midnight blacks, and romantic reds paired with antique brass for a dramatic look. When it comes to table décor, think of candlesticks, vases, votives, and centerepieces of fruits and foods for eye-catching tones. An unconventional floral trend with greenery will look best.
Upcycled Wedding Fashion
Fashion retail has changed a lot in the past year and so has wedding fashion. With many couples going sustainable, couples are designing clothes using materials from flea markets, charity shops, and eBay. Its all about changing the trend.
Destination Elopements
It's that time of the year when you travel so why not elope to your favourite destination and get married there! Get married at your favourite place and spend your honeymoon there too. You can throw an elaborate party once you return to your home. This experience will stay with you forever and will also save you money. A perfect way to get married for couples on a budget.
Eco-Friendly Weddings
Summer wedding trends include environmentally friendly weddings that are all about staying conscious about your ecosystem. Many wedding companies' venues and vendors are into eco-friendly options from the décor to the table food options.  Start your wedding planning by finding a venue that is outdoors as this will help you cut the costs. You can source food from local food suppliers and get flowers from nearby to cut the carbon prints. A rustic or country-style theme will be perfect for an eco-friendly wedding.
Splashes Of Bold
Summer 2022 wedding does not only have earthy tones in the color palette but some vibrant touches here and there. The top colors predicted are pink-purple orchid flowers, earthy green olive oil, tropical mango sorbet, and ocean-like Atlantic blue. Some couples will be going-in with the colors palette.
Source
From Bridgeton-inspired weddings to Mango sorbet themes it's time to go bold with your wedding themes wedding trends. But weddings need someone to capture the aesthetic and the memories. Since we are already on the topic of wedding photographers, make sure to check us out at https://originweddings.ca/, we would be honored to capture your big day so the memories can last forever.'